Another hot week, another project. Has the weather let up where you live? or is it winter now?
As for me for the last couple of weeks, I have been thinking of making a bag. Any kind of bag, as long as it fits things inside. I couldn't think of anything but then I remembered the time I was in the metro and saw a bag that would forever change me (not to be dramatic).
It was a backpack that converted into a tote and I loved it. You have probably seen it its the
Fjallraven Totepack
and it's super cute. But since I wasn't going to spend $135 I thought I would make my own convertible bag but it would be able to become a crossbody/messenger bag. And so I did.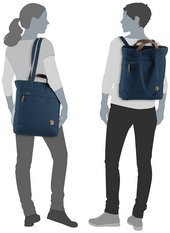 It was quite a struggle since I didn't have a pattern but I had a vague Idea. Before I started I decided to make a small scale design (1/4 of the original size) so it would be easier to figure out the numbers for the pieces. I didn't take a picture of the process (like usual) but I did post it in my Instagram stories.
I decided to use for the outside of the bag the denim fabric I had bought at Renaissance the week prior (look at
this post
). I actually bought that fabric with the idea of making a bag. For the inside, I used a fabric that I bought back in AB for a very (very)good price and was perfect for the inside of the backpack. Before cutting the pieces I double checked that all of the pieces were correct and this is what it looked like.
For the inside, I did a glasses and card holder and a zippered pocket. The zipper pocket was hard as it had been quite a while since I had done a pocket of the like. For the flap fastening, I let it be as is for now, since I couldn't find what I had in mind. I will probably just use velcro since it's both easier and affordable.
Sewing it together was not hard until the time came to put in the straps, tabs, and buttons, how the bag was going to convert from one to another. The tabs at the top are what help keep the strap to move into its desired bag.
I researched before of how the mechanics(?) of the bag was like, but of the tutorials, videos, and photos that I saw only turned the bag from tote/backpack or tote/crossbody. There wasn't one where it turned into all three, but fortunately, I finally was able to figure it out (with lots of math *ugh*) and frustration.
The buttonholes (like always) were the source of annoyment as my machine still won't do a buttonhole. I tried my hand at handmaking one and *ugh* it was hard and unseemly, and not worth the pain. So the buttons I did them in my way.
But moving on from the buttons section this is how the back of the bag looks like.
Backpack: At the end of the straps, I did buttonholes (which was hard!) and near the bottom of the bag I placed buttons. When the straps are pulled and arms are inserted it becomes a backpack.
Tote/shoulder bag: Like in the picture above the strap is pulled upwards and is buttoned to the bottomed buttons.
Crossbody: Underneath the tabs, there are two other buttons. When the straps are buttoned to those it becomes longer and it converts into a crossbody.
on the mannequin with the 1980s sewing projects I made
So that was my convertible backpack sewing story. Though, like always, it did take longer than thought (those buttonholes *ugh*) I did enjoy sewing this. I was worried that since I was working with denim it would be difficult and problematic, but it wasn't as bad as that. I did sew at one point 4 layers of material but had no problem with the needle going through.
I forgot to take a picture of it being worn as a backpack, and so I will update once I get the picture taken.
Now I have another bag, that not only fits my books and more it also transforms into different bags as needed.
What do you think? Would you try something like that or would you prefer to buy? Any thoughts, comments, or concerns?
Til next time
Cami (Loren)