Wow, it's been a week I can not for the life of me believe that it's already the second week in July! That means that my birthday is coming soon, very soon. It has cooled here in QC so now it's about 30℃. Nothing overly new has happened, except that I made a pair of dungarees! And I'm in LOVE!
For the last couple of
months
years, I have been thinking about getting an overall type of jumpsuit but when I had the opportunity I would say no. But recently I decided that I was going to sew a jumpsuit. Why not? I have the time and fabric to do it. And so I did.
I had received this nice aqua green fabric from a dear friend that was downsizing and wanted it to be put to good use. There were about 2.5 meters and I used about half (more or less) but it was very wide so it worked well.
It was a bit harder than I expected because I didn't have a pant pattern to work from. I was actually going to use K4138 for I had done the skirt version before. But I read reviews of the pant version and learned that the pattern wasted a lot of fabric and it still didn't fit well. I think I ended up using half of the material the pattern asked for.
For the pants, I decided to just pin them to the fabric and outline the shape. I saw a couple of youtube videos on how to copy pants from a pair of already made jeans. It. Took. Time. Lots of it. Since the denim stretches, I decide to give it 1 inch extra wearing ease on both seams, just so if I made it too big I could size it down.
I know I shouldn't have done it straight onto the fabric but I was desperate for my overalls.
After I finished with the pants and added the pockets, I turned to the upper half. First I had to be sure how high the pants were and where the bib was going to meet it. From there I was able to start the bib, straps, and waistband, which was pretty easy. Though when I finished sewing on the bib pocket I saw that it was crooked! *sigh of frustration* But it wasn't any deal breaker and so I kept it as is.
Attaching the waistband to the pants was something, as I had to do a gather and try to fit the pant width to the waist length. After that, I had to do the buttonhole and *sigh* my machine didn't want to do them. I tried and... nothing! Finally, I decided to do a zig-zag stitch and try to make it resemble a buttonhole *shaking head* that did not look pretty. Therefore I had to change my buttons from clear pretty ones to a lively non-clear yellow to try and cover the 'buttonholes'. But besides the hemming and hand stitching, I was finished!
But overall I loved how it looked like and will definitely make it again. Had I had a pattern for the pants it would've taken about 4 or so hours. But since I was the one making them it took about a week. I would stop, think, try, take a break and do it all over again. IThe pants caused me the most trouble and made me scream in frustration but it was worth it.
They are very relaxing and I feel like a girl from the show Land Girls, just give me a headscarf and red lipstick and I'm ready to go! Have you watched Land Girls?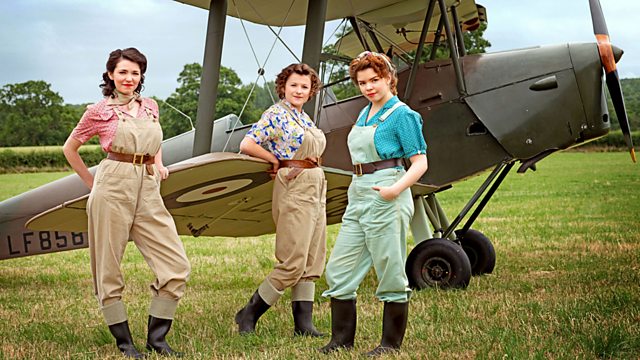 The pockets fit my phone and the bib one is great for keeping things close to my heart. Like chocolate, 😃 I will wear this all summer long. I will be making so many of these, hmm, I wonder if I could make a pair in flowered fabric? Food for thought.
What do you think? Would you try to make your own pair or just buy ones? Would you be interested in a tutorial of sorts? Tell me your opinions (please be kind and honest, not rude) I will appreciate them.
So til next time
Loren