Now that we're less than two weeks into the New Year and I've been thinking about what I will sew this year. Will I make pants or skirts? Russian patterns or English ones? So many options but so little time since I'm at school and have other pressing things.
I decided to write this post as a way for me to remember what I'll be doing throughout the year and to plan ahead. I do not have any firm sewing intentions because like always they can evolve over time.
In my
last post
, I wrote my blogging goals and plans for this year but since I am a sewist too, it made sense to do some sewing related resolutions for this year.
Last year I made a list but unfortunately, I didn't do anything on it. But that will change this year (I dearly hope so) I have planed things that are not only more reasonable but that will cost me less money (and time) in the long run. By less money, I mean not buying pdf patterns that cost $12+ each since I can't afford them, which was the main problem with my list last year.
I love to go to thrift stores and there I find some of the cutest vintage patterns for literal cents that are (practically) new. I've done a couple of reviews on vintage patterns that I got thrift stores like the Tubular 80s dungarees/top review or the 1970s maxi dress. These were extremely affordable (obviously) and so they didn't break the bank.
Sewing Resolutions for 2019
Seasonal Collection
I would really like to sew up a seasonal collection made out of 4-6 garments, which would include a pair of pants, tops, dresses and jackets. How or when will I do that is a very good question. To be honest, I don't know what goes in a collection, do you know?
VikiSews Patterns
Late last year I stumbled into the Russian sewing community (I don't remember how) and found
VikiSews
a company that makes the cutest, most stylish garment patterns. The only problem? They are in Russian. But I didn't care I wanted those patterns badly. Why? Because they were ~$3 each!
That's right, the patterns were a fraction of the cost of other pdf pattern companies with the same style. VikiSews also offer video courses for a really good price and comes with patterns that are not offered standalone.
Just before Christmas, they held a 50% off sale and so I got a couple of patterns for $1.50 each. The only difference from western pattern companies is that you can only get the pattern in your size. So one size instead of multiple though there are a couple that has multiple sizes. Oh, and before choosing a pattern you must choose a height first, which again was a very different experience for me.
Though I don't speak Russian I do hope to sew up two VikiSews patterns and to write some reviews on it. Wish me luck!
Monthly Sewing
Since I'm at school, I do not have a lot of time in my hands but I do want to sew when (or if) I have the time.
My goal is to sew two garments monthly if the time allows (I'll even settle for 1, though it breaks my heart) So by the end of the year, I would have between 12-20 garments made! I would honestly settle for 10, knowing how I can be like (ie, forgetting to sew, sewing the wrong size, etc).
My biggest problem is that everything takes forever to sew, for I stumble into problems or maybe I'm the problem?
Sew a Little Black Dress
Every girl needs a little black dress. The perfect garment for any occasion, since black does go with everything. There are so many types of LBD, that it is hard to choose the perfect one.
So hopefully this year I'll be able to sew one up.
or even something as simple as these ones below. The black pants with the with skirt on Grace Kelly look so summery and chic.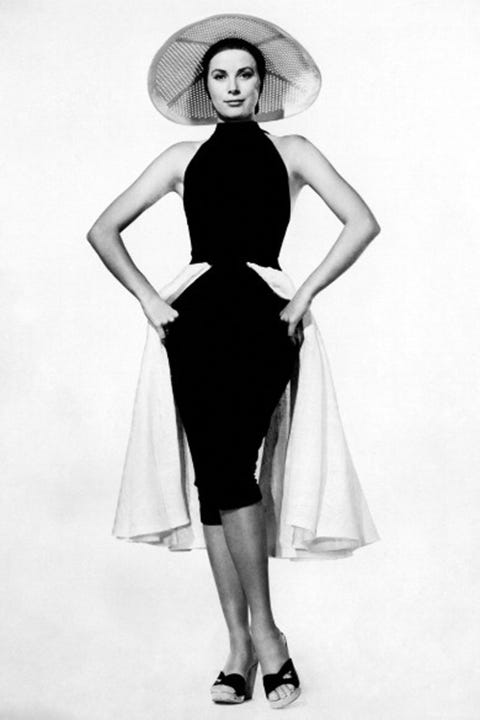 Skills
I do hope to improve my sewing skills this year. Maybe couture sewing, vintage stitches. I feel that for that last year and a half my sewing skills have been static since I graduated high school where I learned most of my skills. What skills do you think I should learn or try?
Those are all my sewing intentions for 2019. I do hope to do more sewing than I did last year and hopefully learn new skills along the way. If you have any thoughts, comments or concerns don't forget to comment.
What do you think? Do you have any sewing resolutions for this year? or any crafty/hobby resolution?