For the last couple of months, I've been focusing more on what my blog looks like and my writing than when I began. My focus has been more on quality vs quantity, so I've been trying new techniques and resources that have been helping my blog grow and become something better than I expected.
Since then I had been thinking of writing a post of all of the resources I use on my blog and social media that are free and that makes my life so much easier. And so I did.
*updated in March 2019
If you are new here, I started Plaid and Sugar back in late 2017 and I had no ideas what I was doing. My pictures were badly lit or edited, my writing less than perfect and I didn't know (or care) much about how my blog should look.
By searching on the interwebs, I found that blogs need stock images, a certain format, and other things to make one's blog look better and engage more people. But most of the sites that I would be referred to cost money, and as a student and new blogger I wasn't (and still isn't) making money and so I couldn't afford them.
But then I stumbled into sites that do offer all that is needed for free! That's right free. Gratis!
Some of these offer two or three free products so that they'll entice you to buy the full membership or other more costly products.
I am not affiliated with any of these companies, I just love their products and wanted to share it with others.
Free Resources I Use
Creative Market
After lots and lots of searching, I found
Creative Market
in January 2017. It is an online store that resembles Etsy but is only focused on online products, such as graphics, templates, fonts, and more. The great thing about it is that every Monday they offer 6 products to download for free, with no strings attached.
The products often include fonts, graphics, clipart, and much more. Sometimes there have been Lightroom presets, blog themes (this is where I got the one I'm currently using), stock photos, and templates (mockups, resumes, etc).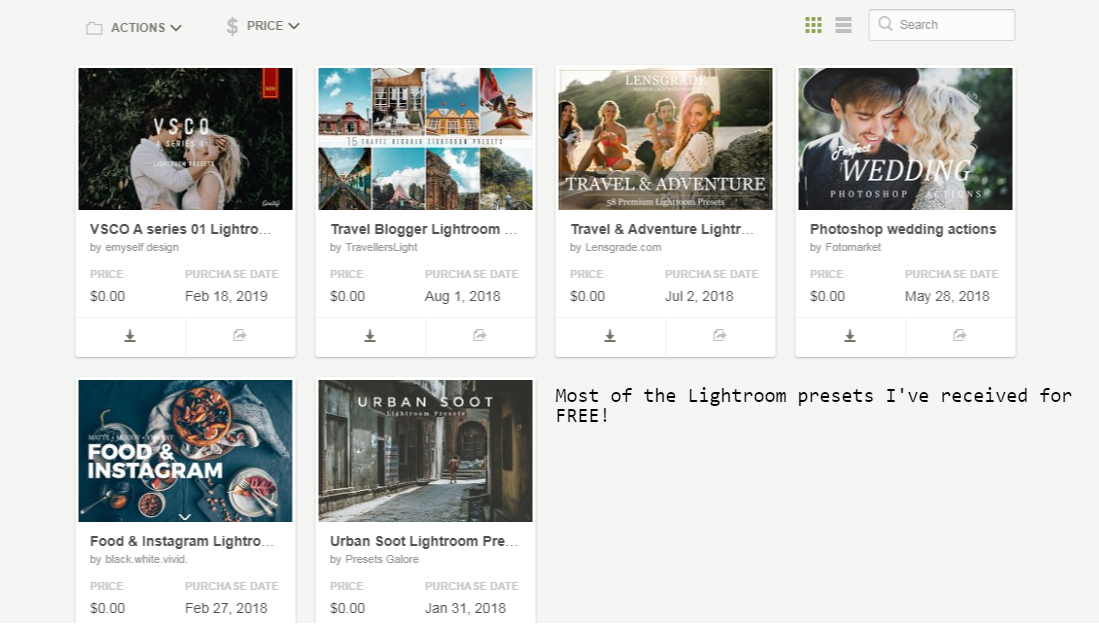 Some of the stock photos, fonts, and graphics that I have used on this blog I've downloaded from CreativeMarket. The products are of great quality and they do entice me into buying other products. Artists and developers (?) will give it free so people can try out their products and then buy their other products (I hope this sentence doesn't sound redundant).
In the year since I've joined, I have gained over 300 products for free! 6 every Monday.
I do recommend this site, as you will find many, many things, and if you don't like them well, well you got it free! Lately, I've been focusing on the branding of Plaid and Sugar and so I've been looking at all of the products and fonts that I have received to achieve my idea since there are so many products.
a small section of the stock photos/bundles I've received
The Hungry Jpeg
Just like Creative Market,
The Hungry Jpeg
has a free resources library, and each week a new product is offered for free. The site has stock photos, fonts (lots, and lots of fonts) and graphics that can be very useful for branding.
It is not as nice or as product extensive as the aforementioned, but it does have products that is extremely useful for anyone and it is free.
Canva
To make all of my blog post pictures/visuals I go straight to
Canva,
a graphic design software. The site is free and there are many templates to chose from, resumes, Pinterest-size images, lists, and more. Perfect for making logos or any graphic design for your blog. There is a membership if you wish to have access to everything (like special photos, graphics) but with the free membership, you can do plenty and more.
You can upload your own graphics and images, which I often do with the ones I received the two sites above.
Stock Images
There are many places where one can get free stock photos. There are some sites where they'll send you 5 photos monthly for free, like a sample of the photographer's other pictures. Other sites are free with thousands of pictures in different categories.

An example of the types of photo bundles and resources the Haute Stock has.


Those are the top four that I use. The quality is great and the pictures are lovely, and with some help from Canva and other photo manipulation the pictures will look different and can achieve the desired look.
Word Counter
Sometimes I have a word goal in mind for a post or I'd like to know what words I'm repeating too often, and that's where
Word Counter
comes in.
It is an online editor of sorts that counts the number of words, characters, sentences and etc, what reading level it is and which words I've used multiple times. This has helped me immensely for sometimes I can repeat the same word in a post 5-6 times while there are other better synonyms as it has also a thesaurus.
It is free and it works great with Grammarly!


Grammarly
Need grammar help or don't know if you spelled a word right? Don't worry Grammarly is here to help! I think that most of you know what Grammarly is. It is a plugin (?) that is added to your browser and when writing it will point out your mistakes by underlining them. It's free and it is a miracle worker when writing posts, essays or anything in general as it will also suggest what you should write instead.
There is the free plugin, then there the free account that does more, and finally there is the paid premium version that has a plagiarism checker and has vocabulary enhancement suggestions.
*Newly added
Design Wizard
After I published this post I was introduced to
Design Wizard
. It is a site much like Canva but with many more designs and templates. Unlike Canva, everything is further detailed and labeled. So not just 'logos' but 'beauty logos' or 'art logos', so you can save time getting to what you are looking for.
This site has a wide range of graphic design tools and the interface is very similar to Canva, so you are not going to feel disoriented or confused when using it. My only issue was that when trying to line up or level a text the site does not point out if its at 90degrees etc. so at times it is crooked but near to impossible to level.
I'll be further trying this out in the coming months and see what it is like.
So those are all the resources that I use on my blog. Some of them are quite common like Grammarly but others were new to me (Creative Market) and they really do help in the upkeeping of this blog.
Have you used any of these resources before? Do you have one you would recommend?
Thanks for tunning in, til next time
Loren Camila